Technical Service & Engineering Support (TSES)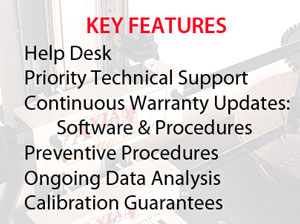 The TSES Program offers proactive preventive maintenance, continuous engine core assembly engineering support, refresher training, responsive service and a continuous warranty. Significant cost reductions continue while the equipment, tooling and software are maintained to operate at peak performance. Axiam has received commendations and praise for its service and assembly process engineering support from both military and commercial customers. An Axiam engineer makes two preventive maintenance visits per year to perform system maintenance, install software updates and upgrades, calibrate and re-certify measurement systems, update procedures, and collect test cell performance data for review and analysis.
Calibration and Certification Standards
A calibration is performed at each service visit. Axiam's Gauge System Certification 3D-Masters are designed to check all combinations of measurement probe definitions for Axiam's measurement gauges. Axiam's calibration fully satisfies FAA, ANSI and Mil. Spec. standards.